Summary of Jan. 3 board meeting; new members appointed
January 4, 2023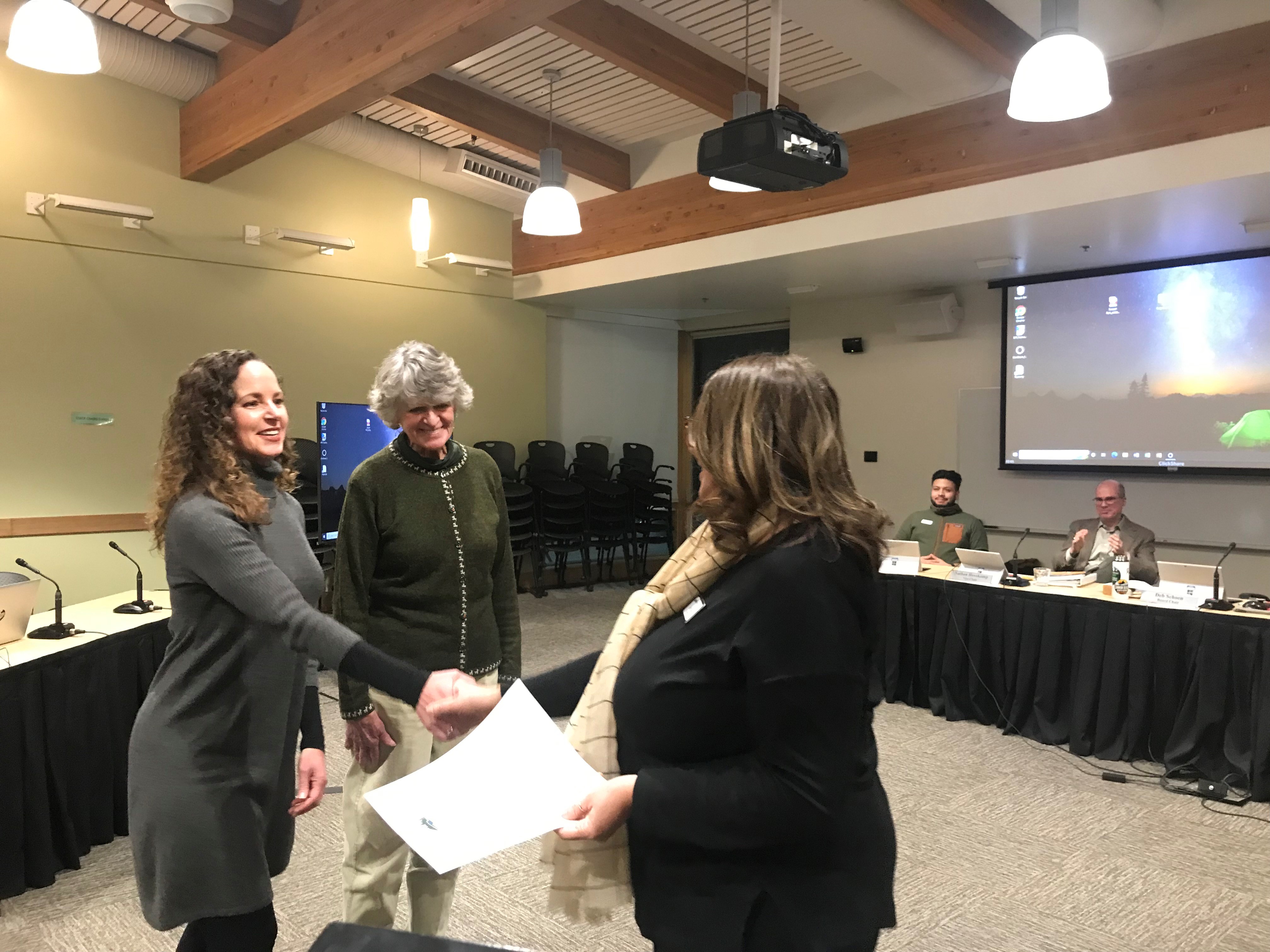 The board of directors rang in the New Year on Jan. 3 with a meeting. A recording of the meeting is available.
The meeting included a report about the Annual Comprehensive Financial Report followed by presentations by seven finalists who applied to fulfill the remainder of the terms for Ariel Méndez and Jason Kropf who both resigned their BPRD seats to focus on their other elected positions on the Bend City Council and the Oregon State Legislature, respectively.
The seven finalists were selected from a pool of 21 applicants who submitted interest letters and responses to questions. Finalists made 5-minute presentations with brief questions and answers. Following the remarks, the three continuing board members recessed while scores were tabulated.
Upon resuming the business session, Chair Schoen announced their decisions and appointed two new board members: Donna Owens and Jodie Barram.
Donna Owens
Donna Owens served a three-year term on the Bend Parks and Recreation Budget Committee from 2000 to 2022. She moved to Bend in 1979 for a temporary job with the US Forest Service that turned into a long career in the Western U.S. before retiring in 2018 and returning to Bend. She has a bachelor's degree from San Diego State University.
In addition to BPRD service, she volunteers for Family Kitchen, Friends of the Malheur Wildlife Refuge and Deschutes Land Trust. She enjoys the outdoors, walking, hiking, birdwatching, wildlife observation, skiing and snowshoeing.
Jodie Barram
As a Central Oregon native who moved back to Bend 24 years ago, Jodie Barram has been an avid user of the District's programs, trails, parks, natural areas, river access points, and off leash dog areas.
Jodie has expertise as a professional communicator working locally and nationally focused on emergency situations, wildland fire, its impacts and effective mitigation measures. She served on Bend city council previously, as Mayor Pro Tem for four of the six years, and on the planning commission. She has a bachelor's degree from George Fox University.
"Bend's first parks were established more than 100 years ago by strong women and this is the first time there is a majority of women on the board and it is to be celebrated," said Deb Schoen, chair of the board of directors. "Donna and Jodie's past service to this community and to others is greatly appreciated and I look forward to working closely with you."
In addition, three applicants were appointed to the budget committee, which was a separate application process. New budget committee members are: Corey Johnson, Cara Marsh-Rhodes and Cary Schneider.
To conclude the meeting, the board appointees were sworn in and committed to begin their work on behalf of the community members they will represent.
The next board meeting is Jan. 17.